CHRIS Bath has dismissed speculation that pay disputes and disagreements with management are behind her decision to quit Channel Seven after two decades.
And in an interview with News Corp Australia, the veteran broadcaster also had some special words for her rumoured rival and network stablemate Sam Armytage.
It's been a longstanding rumour the pair have been engaged in a behind-the-scenes battle and that Armytage gave her the nasty nickname "Bath Vader".
"All I will say on that front is: 'May the force be with Sam,'" she told the newspaper.
"And I say it with a smile on my face.
"The nickname has been the gift that keeps on giving. I have so much Star Warsmemorabilia now and I've always been a fan."
Bath announced her decision to step away from her news reading, reporting duties and hosting roles on Tuesday.
"This has been a very big decision," the veteran journalist said in a statement. "I'm very grateful for the past wonderful 20 years at Seven."
The 48-year-old spoke to Triple M's Grill Team this morning about her decision to leave the newsroom. "Sometimes you've got to take a calculated risk, sometimes you've got to back yourself and sometimes you know you just have to go for it and I just figure it's time for me to walk my talk," Bath explained.
"I've been overwhelmed. Honestly, I'm stunned that people even care, I've just had so many wonderful messages from people."
Matty Johns asked if newsroom politics had anything to do with it.
"I don't want to get myself a new headline with anything. In our game it's a pressure cooker environment," she said.
"I have worked in 20 years, with some of the most remarkable people in that place … they're the ones I want to say thank you too."
Rumours quickly spread on Tuesday that Bath's decision to leave may not have entirely been down to a new life change.
The Australian reports that she may have left the network after a pay dispute with executives during her recent contract negotiations.
While Bath dismissed the speculation, telling News Corp Australia it's never been about the money, it's been reported she was "less than happy" her $800,000 salary — which she was allowed to keep when she shifted from weekday to weekend newsreader in January last year — was being lowered to $500,000.
"Seven executives perceived the half a million dollar salary as generous to Bath, given she was no longer the face of Seven News Sydney," The Australian reported.
They reportedly felt that the pay cut was justified given her role had changed from reading the news nightly to only on Friday and Saturday evenings.
But Bath felt the pay cut was unfair and was not willing to accept less than $700,000 given "it was not her choice to leave the weekday newsreading slot for Ferguson."
Melissa Doyle has been appointed to Seven News Sydney's 6pm bulletin on Fridays and Saturdays, in addition to hosting and reporting duties for Sunday Night.
Bath has hosted the 6pm Sydney bulletin for the past four years. She took to Twitter this morning to thank all her wellwishers.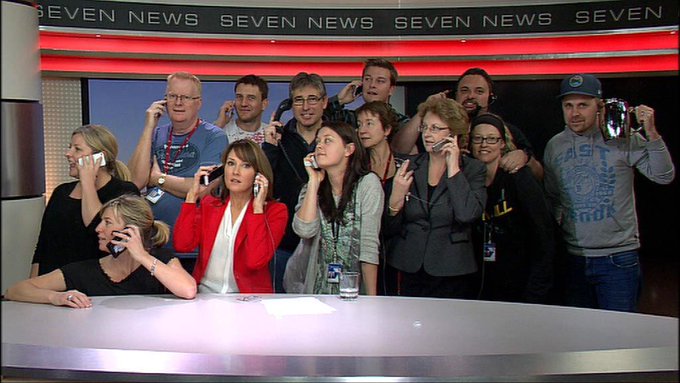 Bath added: "I want to thank the Network for giving me the chance to enjoy every broadcast journalism experience possible; from reading News to assignments abroad including East Timor, Bali, Gallipoli, Royal weddings and various Olympics, to interviewing pollies on Face to Face, 11am and Sunday Sunrise, to Witness and Sunday Night, to the glorious anarchy of anchoring breaking news events for hours with our first class studio crews, to tangoing to ACDC under a mirror ball on Dancing with the Stars.
"I've loved it all, worked with some amazing people and made lifelong friends at Seven. It has been a tough decision to leave, but years ago I left a great job in regional television because I didn't want to say "What if?" about life, and I feel with all that experience on board now, the time is right again to explore new horizons."
Chairman of Seven West Media Kerry Stokes personally thanked the TV personality in a statement: "After two decades of impeccable work at Seven News and more recently, hosting and reporting for Sunday Night, Chris has established a legion of fans, on both sides of the camera.
"For all of the long days that inevitably turn into long nights, I thank Chris for not once taking the easy way to get the facts that get the story. Chris has always been there to work in the community, especially with schools, and has made trips to Perth to help with Telethon. I'll miss her sense of humour and on air professionalism. Channel Seven will always have a place for Chris, in the meantime however, I wish her every success for the future"
Bath and her husband, Channel 7 sports commentator Jim Wilson, tied the knot in January, 2012.