ENTERTAINMENT
Rebel Wilson lied to journalist about age and real name, court hears
Caroline Overington says Wilson 'had not been honest' when she confirmed her age was 29 and her 'real name' was Rebel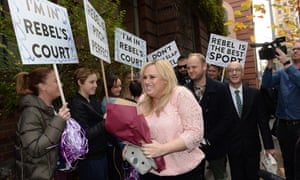 ​A journalist at the centre of a​ trial between Hollywood ​actor Rebel Wilsonand a magazine publisher ​has said the comic star lied to her face.
Caroline Overington worked for the Australian Women's Weekly in 2014 when she interviewed Wilson in Sydney while the star was promoting the Stan online streaming service.
Overington told the supreme court of Victoria on Friday she felt "discomfort and dismay" after publishing a story that "misled" her readers.
Wilson is suing Bauer, which publishes Woman's Day, Australian Women's Weekly, NW and OK magazine, over a series of articles in 2015 she says damaged her career by painting her as a serial liar, having told untruths about her real name, age and childhood.
She says she was sacked from two DreamWorks animations following the articles and missed out on​ movie roles during 2015 and 2016.
Wilson says she has never lied to journalists and has simply deflected questions about her age.
Overington said Wilson told her a story about being related to Walt Disney and getting exclusive access to a "super secret" and "magical" apartment where waterfalls would start to move in pictures on the wall or the lights would suddenly twinkle.
​ Overington said she introduced herself to the star while she was having her hair and makeup done, to "establish rapport", confirming her age was 29 and that her "real name" was Rebel.
Overington said Wilson replied "yes" before launching into a story about how her mother chose the name Rebel.
Overington said she found out later via an article published on the ​Mamamia website that Wilson was in fact several years older and that her birth name was Melanie.
Upon realising the star had "not been honest" about a number of points, she wrote another article about Wilson for Australian Women's Weekly in an attempt to set the record straight.
Wilson has previously denied a "pre interview" discussion occurred while she was getting her hair and makeup done.
Sydney hairdresser Gavin Anesbury ​gave evidence on Friday, confirming a woman had spoken ​to Wilson for about 20 minutes while he did her hair. Anesbury said he couldn't confirm the woman's name or what she looked like.
Earlier on Friday, Wilson's Beverly Hills agent told the court she was mystified by a lull in the star's Hollywood career.
Sharon Jackson said after the "incredible success" internationally of Pitch Perfect 2 in 2015, in which Wilson played a lead role, she was surprised the actor did not receive many multimillion-dollar leading lady offers.
​