ENTERTAINMENT
Rihanna Rumored To Have Broken Up With Her Billionaire Boyfriend Because She 'Gets Tired of Men'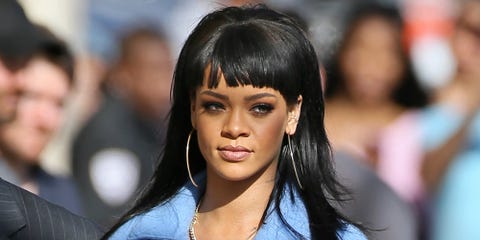 MediaTakeOut News is reporting (so, grain of salt) that Rihanna has ended things with her billionaire boyfriend of over one year, Saudi businessman Hassan Jameel, because she just "gets tired of men sometimes." Same.
"Rihanna and him were together for a while," a source told the outlet. "It was a good relationship, but now it's over. Of course Rihanna broke his heart. That's what she does: break[s] men's hearts." There was nothing salacious or explosive about the ending either, the source claimed. "Rihanna just got tired of him. She gets tired of men sometimes."
Finally, some gossip we know to be true in our hearts. Well, just the getting tired of men part. As for the veracity of the rest of the rumor, who knows?
Rihanna and Jameel have kept their relationship very private, and Rihanna has never posted anything about Jameel on her social media. In January, the two had a rare outing together and were photographed leaving a Grammys after party…apart but around the same time. They just didn't want to be photographed next to each other.
In Rihanna's June Vogue cover story, the interview of which was likely conducted weeks prior to its early May publication, the singer also said this of Jameel: "I used to feel guilty about taking personal time, but I also think I never met someone who was worth it before."